Fridays are field trip days at Neema for our school children. We have been trying to take the big kids to educational places and so this week we went out to Justin and Anna Maynard's farm at the preacher training school.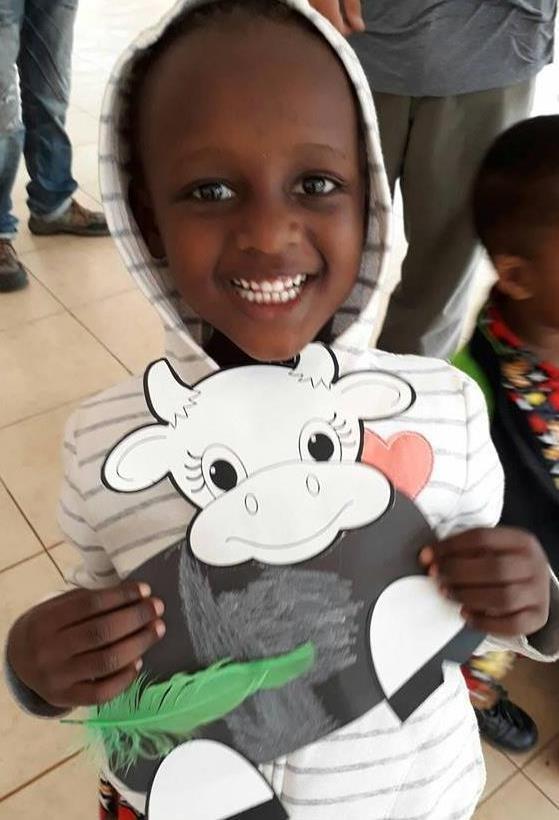 Thanks Anna for the great pictures and such a fun craft and exciting day for the children!
The kids were beyond excited and could not wait to pet the cows and chickens. Getting close enough to actually touch the animals quickly became a different story.
I had to peel Frankie off my neck! When I told him, Now aren't you a Maasai and all Maasai love cows, right? Maasai believe that all cows belong to them and if you have a cow they want it back! Wars are started in Maasai land over cows But not today for Frankie!
It was good for them to get to see where milk comes from as Justin's helper showed them how to milk the cow.
Then it was on to the chickens. It took a while but we did finally get some of them to go inside the big chicken house and try to find an egg.
We had brought a picnic lunch of boiled eggs, fried chicken, cold milk and cookies.
After the farm we drove into the Arusha airport hoping to find a place to spread our blankets for lunch and watch the planes come in. We did better than that! The kind man at the airport brought us right into the airport lounge and out onto the runway where the children got to see airplanes taking off, landing and loading passengers.
It was so cool and we could not thank the kind man enough who had helped that fun time happen for our children. I asked Frankie if he wanted to grow up to be a pilot and fly planes and he answered with his two missing front teeth an emphatic, "Yeth!"
"Its What Neema does Best!"
Almost three years ago we received a terrified little girl at Neema who had been found abandoned on the road. She was older than most abandoned babies, although she could not walk or crawl, we estimated her to be about 18 months old and it appeared as if this may have been her second time to be left abandoned.
She was extremely afraid of white people, would cry if we came close and would not talk or smile especially if any wazungu were near. After a trip to the doctor we learned she had in the past had a broken femur and other broken bones, too many to be accidents, the doctor said. 
We were so sad for this little girl. All we could do was love her.
But after a long time Careen began to smile, timid and cautious, but a smile no less.
She was extremely afraid of doing something wrong. When our daughter Kim designed the educational toy basket time the instructions were not to get off your mat. Careen was so afraid of disobeying and too afraid to ask pemission to go to the bathroom that she made a mess on her play mat. Kim loved on her and told her it was okay that she could ask permission to leave the mat. The next night she came timidly to whisper in my ear, "Bibi, I will not mess my mat tonight."
As we work with these precious abandoned children it breaks our hearts to think of what they have been through. That is one of the reasons our staff knows that to hit one of our children is a firing offense. The babies have been through enough.
Before the move, a couple had looked at Careen to adopt her. Watching the children play in the yard one day they asked me why she didn't talk like the other children. They then decided they did not want her. But now a new mom for Careen has been found. She is a nurse from Karatu and has been coming to visit so that Careen would know her and not be afraid. This week our beautiful Careen got to go home to her forever family! It's what Neema does best!
"A Cow for Neema."
A few weeks ago we were contacted by a Swedish couple living in Iringa about buying Neema a cow for Mother's day. So last Wednesday they took a 12 hour bus ride from Iringa to help us pick out the cow. Tomas, Mariella and their daughter Tuva had a blast playing with the babies
and driving around Arusha looking for cows.
They settled on this little lady whom Tuva promptly named Rosie.
Tomas and Ramah built a temporary shelter for Rosie and the children have been going out in the evenings to pet the cow.
Yes, even Frankie.
"Our little Nuriath returns Home"
One more bit of good news, our little Nuriath was finally able to return home. She was one of the cutest babes ever brought to Neema. Of course they are all cute but this one was pretty special.
Her father had remarried after the death of Nuri's mother and Social Welfare thought she was stable enough to return home. Ashley got to see Nuri off.
Since we love for people to know we are not an orphanage and do not intend to keep these babies we are always happy when they can return to a loving family. May God go with you sweet Nuri and Careen!
And you also dear friends of Neema,
Michael and Dorris