They had started out on June 14, pumped, prepared and determined to climb to the highest point in Africa but they were in for a surprise. By day three they realized they were facing the fight of their lives.
"Whoever said this was a walk up was crazy," one of them said. They had set out to climb Mt. Kilimanjaro, Africa's tallest mountain as a fund raiser for Neema Village, our home for abandoned, orphaned and at risk babies.
Led off by Michael Fortson, the founder and Executive Director of Neema, three generations of Fortsons would attempt the climb. Our son Rob, a Neema board member, and grandson Tanner White from Billings, Mt. were among those who started out with high hopes of making it easily to the top. It was supposed to be a walk up right?
"I trained for months, was motivated and yet I barely made it," Howard Castleberry from Nacogdoches, Texas later said.
Anything this beautiful, moving and meaningful doesn't come without a cost," Howard said. It was so strenuous their oxygen level and blood pressure were checked twice every day by the camp doctor.
It did start off easy, a nice walk in the rain forest with the black and white Colobus monkeys which Allyson Dibrel aptly named the tree skunks.
By the end of the second day they were above the clouds and got their first clear view of the goal, the top of Kili. It looked immense.
Different men had prepared devotionals each night and the porters would sing them awake each morning. Summit day was to be a glorious sunrise devotional.
"It was an awesome experience that I was not prepared for even though I have done Trek in Colorado several times, but somehow I pushed through," Rob said.
At this point clothes still appeared clean, hair shiny in the sunlight and the girls still beautiful like Bailey Rogers in the picture below. After a couple more days trudging up the mountain, that all changed.
As one beyond exhausted climber said, "At this point I skipped dinner preferring to sleep instead."
Fourteen year old Aiden Martin from Temple, Texas appeared to be the most excited to be above the clouds. Great Picture Jason Martin!
There were five women climbing, they called themselves The "Fierce Women Warriors." To spend eight days without makeup, shampoo or even a bath for these brave women was a challenge but Julia Gentry, Lindsey Vineyard, Bailey Rogers, Allyson Dibrell and Zoe Rascoe were confident they were ready.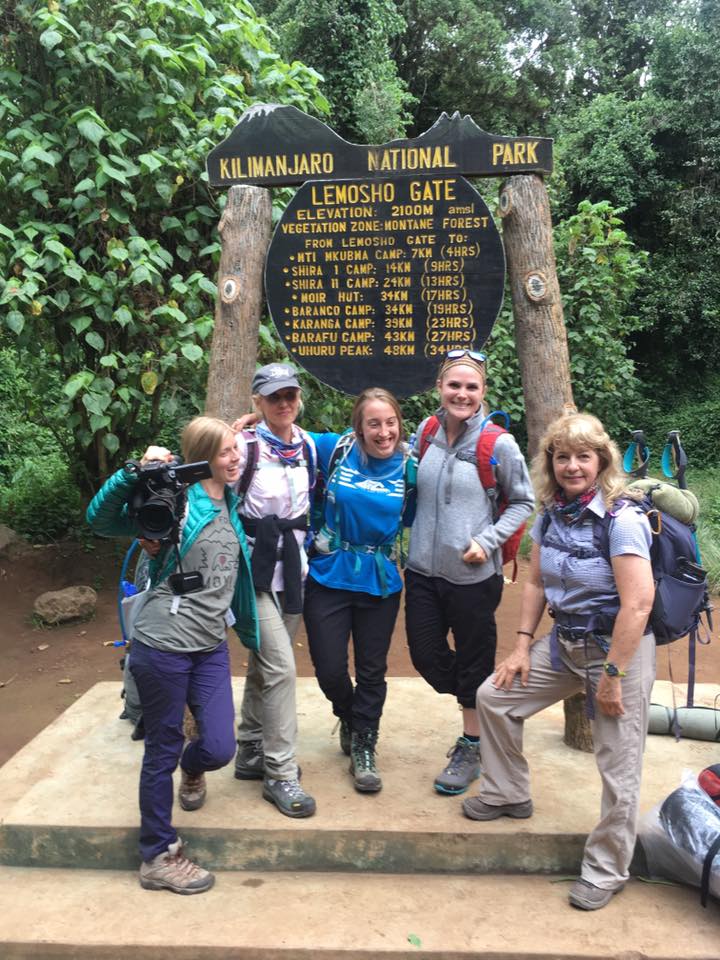 On the morning of day three Lindsey Vineyard looked at the wall of rock before them and said, "You have got to be kidding!"
Few people on the face of the earth have spent 5 nights camping in freezing weather above the clouds. They slept in short two man tents they had to crawl into because the wind was too fierce for a stand up tent. The potty tent was sheer torture on a bare bottom and one man said he could barely stagger exhausted into the dinner tent to eat at night.
On the 7th day, nearing the top, one climber remarked my guide had to pull me up the last few steps. The guides climb this almost every day of the year and with 50 lbs of equipment, water, food, and tents on their heads! "My guide was pushing from behind," another climber said.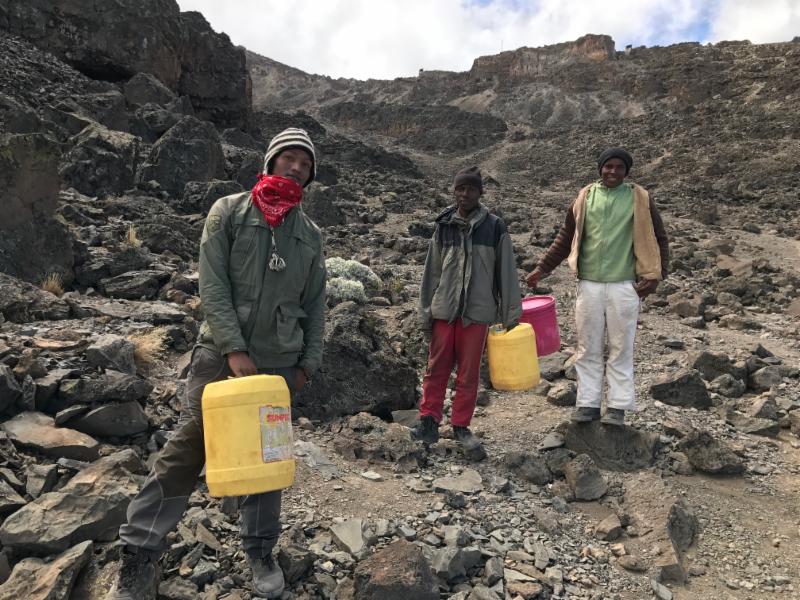 In the middle of the night on the seventh day they were woken to begin the night climb to make the summit by sunrise. A mountain goat must have designed this harrowing climb in the dark. They wore head lamps which made them feel like they were climbing in a tunnel. It was disorientingly scary.
But all but one had made it to the top of the African world. Michael suffering from uncontrollable leg and back aches found after he got home he had a raging tooth infection and had to have a tooth pulled. Thank God he was not any further up the mountain, he knew he would have had to be carried down.
What would make 20 perfectly sane individuals attempt this? If you look closely you will see they are all carrying a polaroid picture of a Neema baby. They had climbed for the babies.
Tanner said, "I'm honored that I got to climb for Shabani."
I am convinced that Peter as he hung upside down on that cross facing the last great challenge of his life, must have thought, Yeah, but I walked on water! These 20 courageous men and women will forever be able to say in the midst of life's struggles, Yeah but I climbed Mt. Kilimanjaro!!
Thank you is never enough.
Love,
The babies of Neema.