October 15, 2018
With sixty one babies and big kids at Neema Village now, I Imagine it is a loud and messy place. It is also quite wonderful.  Two new babies came to Neema a few days ago. Emily says they are very tiny and fragile.  The top one is named Rachel and the little one pictured below doesn't have a name yet.  I'm sorry to show you the pictures but this is who they are and I want you to know them.
I know this is hard to look at but they look like skeleton babies, don't they?  It is even hard to write that. Our hearts break for them and I wish we were there to hold them and keep them warm and safe and tell them they will be okay. 
We will love them until a new family member can be found to care for them or they can be adopted.  It is never our goal to keep these little ones. "No baby belongs in an orphanage" is our motto, even though I continue to stress that we are not an orphanage. We are a rescue center.
Until the babies have their forever families they will need sponsors. Please go to www.neemavillage.org and sign up to care for these little ones.
Pictured below, Baby Baraka #4,  came to Neema on Thursday.
He was born at home and shortly after the birth the mom developed complications with the placenta. She died on the way to the hospital. I sigh with deep frustration each time this happens.   Did you know that the biggest killers in Africa are all preventable;  Malaria,Typhoid and Childbirth complications.   
Even though we now have a large monthly give away program of formula through our Outreach Program to keep babies in their homes, there was no one at this home who could care for this little one right now.  African culture will not allow a single woman to live in a house with a single man so hiring a live in nanny for them is not possible.   We will care for him until his father remarries or a grandmother or aunt can take over.
Christopher, pictured below is an abandoned baby.
October 2018.  Christopher came to Neema a few days ago. He was abandoned in the back of a taxi. His mother said she was going to get something and would be right back but never returned. He is assumed to be about two days old. He was taken to a hospital, where they named him and cared for him. Neema was then contacted. He is not very interested in the bottle right now, but we are trying. Please pray for him and his mother. If you would like to sponsor baby Chris while he is here we could certainly use your help.  Sponsorships start at $30 per month.
 We are continually asked what makes someone abandon a baby? We have had babies left on roadsides, on porches, in latrines, in a gravel pit, in a house alone, anywhere. You ask why? It's a hard one to answer. We don't usually try.I have been visiting with family for a few weeks and we have a pretty spirited granddaughter who loves to argue American politics. She says there is too much greed, corruption, hatred and a lack of respect for individual life in America. She is right, any is too much.
 But those things are not an American "place" problem, they are a heart problem.  Governments or Politicians can't make people be good, love their wives, or share with the poor, or take care of their families, says author Phillip Yancey.   Our granddaughter thought she might like to move to Sweden but I would guess the Swedes have their share of mean and selfish people
I told her don't get discouraged with us humans, there are more good ones than bad ones. Just watch any tragedy unfold on the nightly news. To the few perpetrators of any tragedy there are way more good people rushing in to help. 
"Keep your eyes on the helpers" is a good way to not be discouraged about life.
In our work in Africa where we regularly see babies who have been thrown out, discarded, starved and women used, abused and left destitute, yes, it is easy to become cynical and want to move to Sweden.
That may be one reason we are so in love with our volunteers. They help keep us grounded, a regular dose of goodness every day!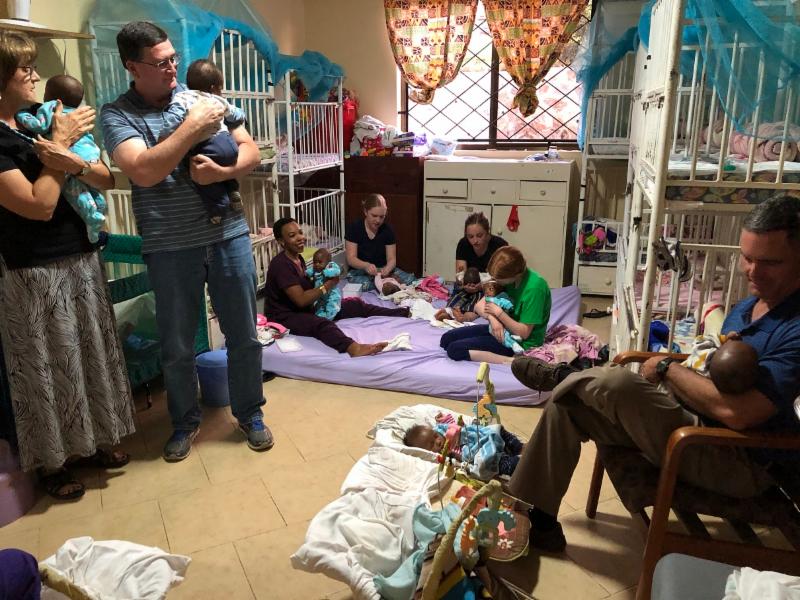 They are like the helpers rushing in to help clean up the mess and might I say with 61 babies at Neema that is a lot of mess to clean up!!
I also told our granddaughter that politics or governments don't change people's hearts. Only God can do that. But she is young and idealistic and also very passionate which is a good thing. 
I'm proud of her.
Neema Village is right where God wants it, helping the helpless, the discouraged, the down and out, the abandoned and the hopeless. So don't get discouraged with life and remember there is way more good than bad in Africa and yes even in America.  I would imagine in Sweden too. 
May God bless you with great faith in the goodness of man.
Psalms 27:13 "I am still confident of this: I will see the goodness of the LORD in the land of the living."
Michael and Dorris Fortson